CFPB Regulatory Action Post-COVID
In preparation for Director Kraninger's testimony in the Senate today and in the House tomorrow, CRREA Project has taken a look back at what regulatory actions the CFPB has taken since the start of the COVID-19 crisis in the United States.
In preparation for Director Kraninger's testimony in the Senate today and in the House tomorrow, I took a look back at what regulatory actions the CFPB has taken since the start of the COVID-19 crisis in the United States. To that end, we at CRREA Project have prepared a chart listing every regulatory action the CFPB has taken since the beginning of March.
What we find will come as no surprise to anyone who has been following the CFPB: there were more actions reducing consumer protections than promoting consumer protections, and there were zero regulatory actions in support of fair lending, although there were some, such as the request for information on credit discrimination issued on July 28 that were at least neutral or mixed with regard to fair lending. In line with its stated regulatory philosophy, the CFPB throughout this period prioritized protection of "the financial sector" and reducing regulatory burden, not consumer protection.
This was a missed opportunity. Consumers, and the public at large, could have benefited from a CFPB willing to engage with its mission. The CFPB could have stopped the garnishment of stimulus payments, or required mortgage servicers to provide homeowners clear notices about their repayment options after a forbearance, or defined parameters for debt collection that protected the public health, to take only a few obvious examples. Mounting evidence suggests that communities of color, particularly Black, Latino, Native American, and immigrant communities bear the brunt of the health, mortality, and economic impacts of COVID. Work could and should have been done by the CFPB to protect those communities and live up to its mission.
Methodology
We reviewed the CFPB newsroom clips from the beginning of March forward. Any policy statement, guidance, notice of proposed rulemaking, final rule, or announcement of regulatory flexibility was added to our list. We give the date, the title (with a hyperlink to either the underlying document), and a brief description, lifted mostly from the CFPB's press releases, of the action.
For every action, we then give it a thumbs up or thumbs down on consumer protection and, where there are significant fair lending implications distinct from general consumer protection issues, on fair lending. If the action neither reduced nor increased consumer protection or fair lending, we rated it neutral. Some actions had, in our judgment, both positive and negative impacts, and those we reported as mixed.These thumbs up or thumbs down aren't scientific, and a thumbs down doesn't necessarily mean it was the wrong choice for the CFPB to take the given action. Accommodations for financial institutions during the pandemic were certainly warranted in some cases.
Because we are focused on regulatory advocacy, we did not review the CFPB's enforcement, research, or consumer education initiatives for purposes of this survey. We also did not include blog posts, such as the July 7 Innovation Spotlight, in our counting unless they clearly articulated a regulatory action.
Findings
Note: Click on graphics to make them larger.
Since the beginning of March, the CFPB had, by our count, 34 regulatory actions. None promoted fair lending. A minority of those actions was consumer protective.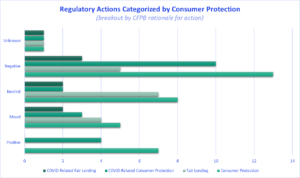 In either press releases or the underlying document, the CFPB claimed 20 of those actions, mostly policy statements relaxing supervision and enforcement of the consumer financial protection laws, as being related to COVID-19. At least some of the actions characterized by the CFPB as being motivated by the pandemic seem unconnected. For example, the CFPB in its press release for the final payday lending rule, rescinding the ability-to-repay underwriting requirements of the 2017 payday rule, linked the rescission of those protections to pandemic relief, a position the preamble to the rule was careful to distance itself from. Other actions, like relaxing disclosure timing requirements for mortgages or credit card applications, justified as COVID-related on the basis of the need to expedite credit, do not reflect what the CFPB's own research shows were the actual problems consumers were experiencing. Of those 20 purportedly COVID-related actions, we rate 10 of them as negative on consumer protection, and three as negative on fair lending. Four of the CFPB's self-described regulatory actions in response to COVID were consumer protective, three were mixed, and two neutral. None of the CFPB's regulatory actions during this period, either linked to COVID or not, promoted fair lending.
Of the total 34 regulatory actions, whether COVID-related or not, more actions were negative on consumer protection than not. There were 13 regulatory actions that reduced consumer protections, eight neutral actions, seven actions that supported consumer protection, five mixed, and one unknown regulatory actions in terms of the consumer protections afforded.
Over this time period, there were no clearly positive regulatory actions in support of fair lending. Seven of the CFPB's 34 regulatory actions that raised significant fair lending implications were neutral on fair lending, four mixed, five negative actions, and one unknown action.
Aside from the sheer paucity of consumer protective action are the missed opportunities. It is standard practice for regulators to remind financial institutions and scammers that there will be consequences for breaking the law. Financial regulators in states as disparate as New York, Wisconsin, Illinois, and Massachusetts all used their bully pulpits to warn would-be law breakers of consequences. But not the CFPB. Instead, its policy statements consistently assured financial institutions that the CFPB would not pursue enforcement action, and that any supervisory action would be corrective only, so long as the institution was making some good faith efforts. We will likely never know what the cost of that approach was, but those Black small business owners whose small businesses went under during COVID because they could not get a Paycheck Protection Program loan are undoubtedly part of the human toll of the CFPB's regulatory choices during the time of COVID.